Halloween decorations. Candy. Scary movies. There are many aspects to love about the month of October, but the one aspect of Halloween that is always a hit is being able to become a different person for the day by dressing up in a costume.
A survey was sent out to Addison Trail students where they were asked if they were dressing up for Halloween this year.
There was a main consensus among the students who answered.
48.4% said that they were not sure if they are going to dress up or not. The people who answered that were not undecided were evenly split on if they were going to dress up or not. 25.8% said they were not and 25.8% said that they were.
When asked about whether or not she was going to dress up, junior Leilani Nevado said, "I don't know if I like dressing up myself, but I do enjoy getting to see other people's costumes because they're always so fun. I think that if I dress up this year, I'll dress up as Peter Parker from Spider-Man: Homecoming in the Hello Kitty pants and the 'I survived my trip to NYC' shirt."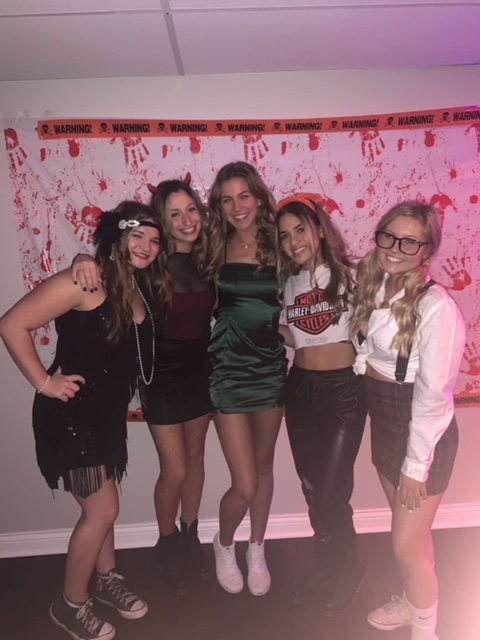 On the survey, there was a plethora of answers regarding what costumes people are going to wear to school this year. Answers varied from students' favorite Marvel superheroes to Rue from the show Euphoria (HBO). Other responses included outfits such as a demon, a construction worker, and a Victoria's Secret Angel.
Each year, there are different costumes each Halloween season that dominate. There are typical costumes such as witches, vampires, and werewolves. Although these are staples, pop-culture costumes become more and popular each year.
Popular Netflix and Disney+ show characters are bound to be best sellers this year. Netflix's hit show Squid Game is set to become Netflix's most viewed show of all time, so it will be no surprise to see people dress up as a contestant from the program.
With four shows and two movies premiering in 2021 alone, Marvel superheroes are probably going to be very prevalent. Characters such as Black Widow, Yelena Belova, Shang-Chi, Captain America, the Scarlet Witch, and Loki are set to be favorable options this Halloween season.
Other popular Disney+ show characters that'll be represented in costume this year will include that of the smash-hit Star Wars show, The Mandalorian.
Students who were interviewed gave feedback on if they were dressing up and truly delivered.
Junior Stephanie Ortiz, who has an undying love of Star Wars herself said, "Yes I am! I love dressing up for Halloween! For Halloween, I get to wear crazy things I would be too embarrassed to wear on a regular day or I can embody a character I look up to just for a day. This year, I'm still not set on who I want to be but I know I want to be someone from one of my favorite shows."
When junior Hannah Melone was asked, she said that she "loves dressing up for Halloween because it's something different than your everyday t-shirt. Every year, I pick a simple costume. One year, I was an identity thief and stuck name tags all over me. It was pretty lit. This year I am gonna be Little Red riding hood and I'm excited for trick or treating. P.S., you're never too old."