The AT girls tennis team has rung in a new school year by going 6-4 so far this season. The team won its first match against Elmwood Park, 5-2. The team lost their next two matches to Plainfield Central and Glenbard North, 2-5 and 1-6, respectively.
On the uptick, the team won its next two matches against Riverside Brookfield, 4-1, and district rival Willowbrook, 4-3.
Despite the positive trend, the girls lost the next two games to Downers Grove South and Downers Grove North, losing 0-7 in both games.
"Our toughest games have been definitely between Downers South and Downers North. They are really good players and definitely have a lot more experience than us but it was really fun playing in those challenging matches," said senior Katelyn Truong.
According to head coach Justin Hegner, the squad practices every day after school. Despite working on many skills such as overhead hits to backhand strokes, the team works on perfecting their footwork the most. "I always tell my team that once they have learned the basic swing in tennis it is all about positioning yourself in the right spot to get a good shot. I also try to teach them mental toughness as well, which is needed a lot in tennis," said Hegner.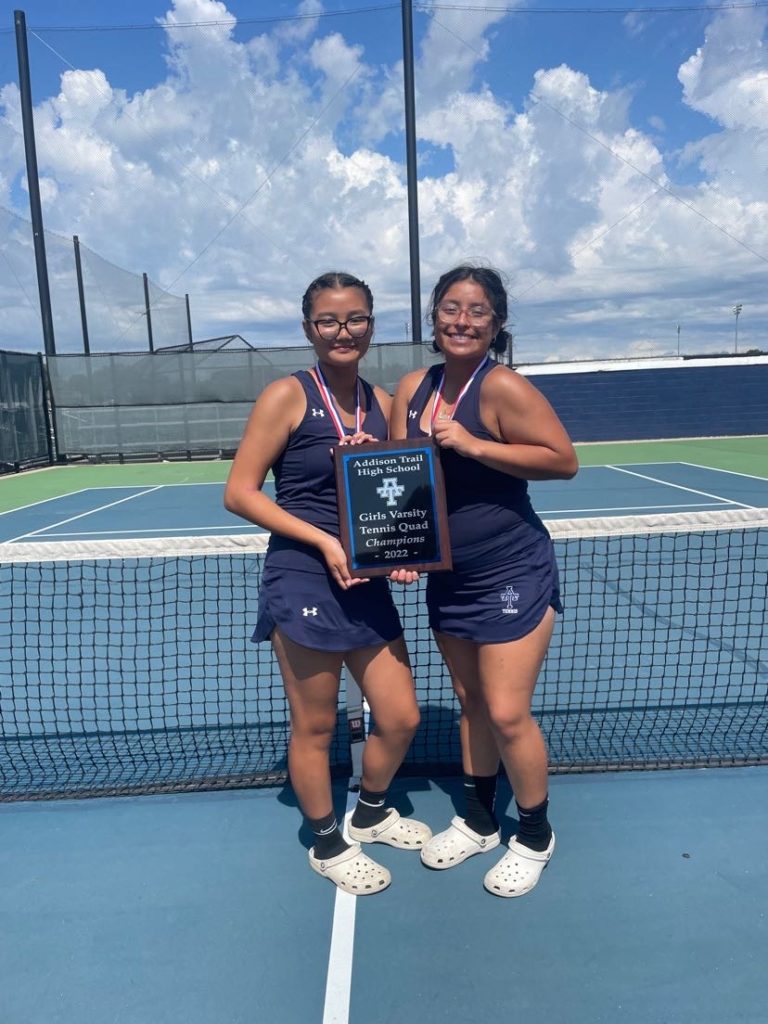 This season, one of the team's strengths is how large the roster is. The varsity roster consists of seniors Truong, Mia Dravilas, Clarita Gayton, Nell Strazecki, Sia Pappas, Kaelynn Luu, Lindsey Pham, Abby Avila, Julia Rusiecki, and Annie Olson. Sophomores Antonina Pecorora and Jackie Bugante and junior Veronica Cosio round out the team.
Another big strength this year is sheer perseverance from the group. "I try to teach my teams to never give up. If you are down by a lot or up by a lot, stay in the moment and fight until the last point is played. My team this year overall seems to be pretty good at that this year. They are fighting for every point that they can get," said Hegner.
The team is captained by seniors Dravilas and Gayton. Of being a co-captain, Gayton said, "It is no easy task but I've had my fair share of taking charge. I love these girls with all my heart. There is a comfort level that is unmatched. My favorite part about helping these girls is talking to them about what they think is going on with their form. I personally feel the need to be more attentive to the team but there's only so much time."
In terms of doubles, Truong and Gayton lead the team. They are currently 11-3. "Katelyn and I are so compatible. She has skills that are different from mine. We complement each other so well. Katelyn knows that if the ball gets past her at the net, I am right behind her ready to put it away," said Gayton. She continued, saying, "There is a grand amount of trust between us and that's exactly how we continue to dominate as partners. We are a dynamic duo. Even though there are times when we want to stop playing, we never stop hustling. I always tell her, 'No one out-hustles us.' Those words will always stand true."
Truong couldn't help but agree with her partner, stating, "Playing doubles with Clarita is amazing. We both have that hustle and strive for tennis. We knew from the beginning playing with each other was the perfect match. Our moods definitely bounce off of each other. We are basically linked when we play together. Whenever one person is down the other can definitely get them back up. Playing with Clarita is definitely an honor she is a great athlete with that hustle and mentality we all need. Us together is the best it's going to get for me."
The team's next home match is Monday against West Chicago.