As the pandemic's two-year anniversary nears, Dupage County's Covid cases decline, and nearly all Covid restrictions are completely lifted as the pandemic turns to an endemic.
On Feb 4, the mask mandate for all students was lifted, but all AT staff were still required to wear a mask to comply with labor union contracts.
On March 2, the labor unions negotiated agreements, and the mask mandate for all AT staff was removed as masks are now optional.
The CDC recommended masks no longer be worn, and as a result, AT is five steps closer to a post-pandemic environment.
Assistant superintendent Michael Bolden explains the system of labor unions. "There are five labor unions that we have agreements with. Working conditions, that's the key term, are bargained with labor groups. When we negotiated a memo of agreement, we met and discussed how to come up with changes," said Bolden.
Rather than the mask mandate to be lifted for each group individually, Superintendent Jean Barbanente expressed a desire for there to be a single lift for all staff members.
"Our superintendent wanted to make it all at the same time, so it took a little time to take care of that quickly. Last night (Tues, March 1), there was a staff email sent at 9 pm stating that staff will all be respected, and there would be no tolerance for criticism based on their side," said Bolden.
AT is officially "mask-optional" as it was previously deemed "mask-encouraged" by administration. All staff, students, and visitors are able to choose whether to wear a mask or not, all judgment left aside.
AT principal Jack Andrews explains his personal reasoning for finding an equilibrium between wearing a mask and not wearing one. "I'll wear them if I go in larger groups, if I'm navigating certain areas, I'll put one on or take one off. If I know a certain staff member chooses to wear one, I'll wear it if it makes them feel more comfortable, just trying to be respectful."
As of press time, 98.5% of staff are vaccinated. Because District 88 has not required documentation of vaccination, there is no proportion of vaccinated students available.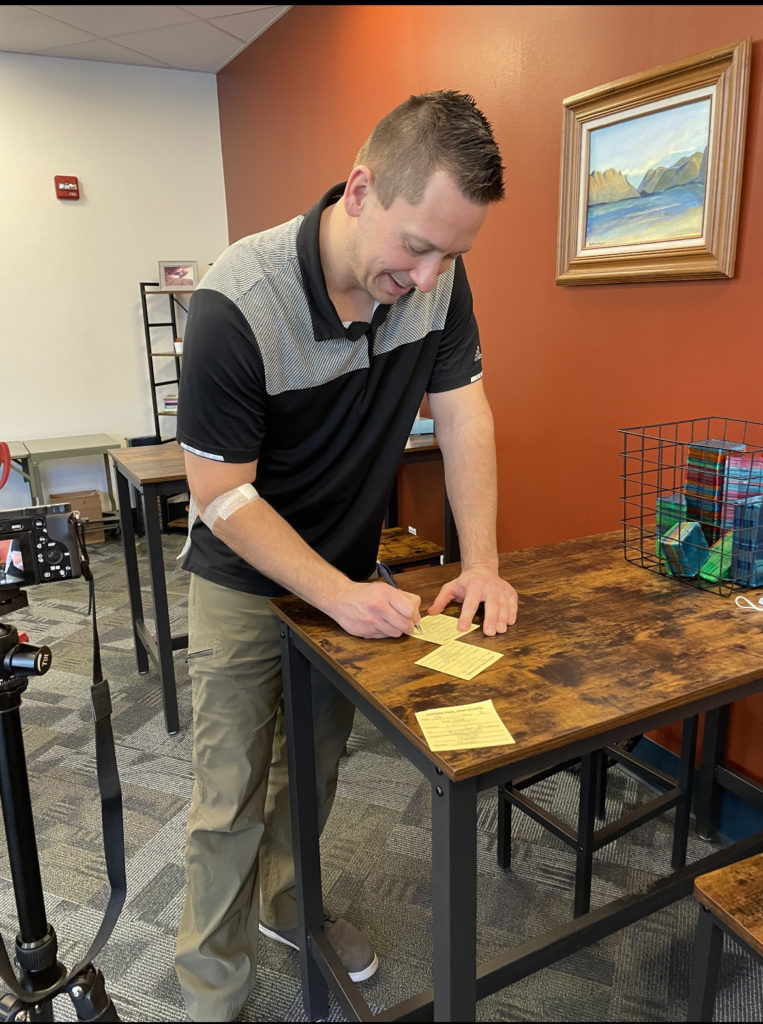 Since March 4, there is a current positive Covid case count of 8 and a quarantine count of 3 amongst Dupage88 staff and students.
The mask mandate for all students remained on all federal vehicles but was removed as of Mon, Feb 28.
Bolden confirms the lift of a mask mandate on AT school buses. "On the federal buses, where we had mask mandates, we are able to be masked if we so choose. This applies to all."
While the mask mandate and most protocols have been lifted, there are still preventative measures and Covid guidelines in place.
"Social distancing guidelines are in place but not required: air filtration, isolation, and quarantine–as per the CDC and IPDH, there is a quarantine guideline of a total of 10 days. After 5 days of isolation, staff and students can return for 5 days with a mask because the transmission of the virus exists in the first 5 days," said Bolden.
Covid tests will still continue to be offered, and all unvaccinated staff members are required to submit to routine vaccinations.
Clubs like Model UN and Youth & Government still require negative test results as prerequisites for attending competition.
District 88 has started to plan trips for coming years, traditions put on hold in face of the pandemic.
"Next year, there is a music trip to Disney, and we aren't holding back on student events that have been on pause; now, they are coming back," said Bolden.
Covid policy remains a discussion at AT although it no longer dominates the atmosphere. There is always the possibility of an unanticipated spike or variant to step through AT hallways.
Bolden states his lack of expectation for the coming year. "I don't know anyone with the crystal ball to know this, but we don't know what variants are out there. In the State of the Union address, Biden mentioned test-to-treat, an antiviral medication that can be given right then and there. Again, [a spike] could happen again. We just don't know."
One year ago, Superintendent Jean Barbanente stepped up as superintendent from the assistant superintendent, and she recalls her thoughts surrounding the changes taken place over the past two years and the support she received from across the district.
"When I think back to March of 2020, I remember watching as the cases spread from China to Italy and then to the U.S. and thinking to myself, that it was just a temporary situation. I remember beginning to work many hours together with the other administrators and teachers to create a remote learning plan and working to ensure all of our students had access to technology and the internet. My biggest memory was seeing everyone come together as a family to work hard and find a way to keep our students connected and our families with the supplies and support they needed," said Barbanente.
In light of the harsh 2 years, Bolden thanked AT on behalf of the administration as the former principal during the remote year and the year prior, the year it all began.
"Our community, staff, and students have been through a lot. We are coming up on our 2 year anniversary of the pandemic. I remember being in Forum A giving a presentation on how to use Google Classroom for teachers who didn't know how to use it, and I got the call that we'd be remote for the next two weeks. The loss that has occurred in the past 2 years is incredible. Thank you all for your perseverance."
As the 2 year anniversary of the pandemic crosses AT's path, the last Covid restrictions are lifted, and Blazers discover a post-pandemic environment. District 88 thanks students and staff for their perseverance and compliance throughout the past two years.