(Warning: This article DOES contain mild spoilers for the movie Eternals, read at your own risk.)
With a return of cinematic viewing this past year, people have been flocking to their local theaters to consume the latest blockbusters. This is no difference regarding Eternals, which hit theaters Nov. 5th.
Despite low critic reviews, the audience score pulled through. Rotten Tomatoes puts the movie at only 46%, the lowest for any MCU movie to date. The audience score put the movie at an 80%.
Some reasons for poor reviews from critics include everything from the fact that this film doesn't follow the "Marvel Formula" to simply because one of the leads in the movie is gay.
The film boasted an impressive $71 million during its opening weekend, the fourth-best premiere during the pandemic era. The movie came in third place compared to Black Widow and Shang-Chi, which grossed $80 million and $75 million during their opening weekends respectively.
The film is held together by an A-list cast that can be expected from a Marvel movie. Actors making their MCU debuts include the likes of Richard Madden, Angelina Jolie, Salma Hayek, Lauren Ridloff, Lia McHugh, Kumail Nanjani, Kit Harington, Don Lee, Brian Tyree Henry, and Barry Keoghan. Gemma Chan also stars, but she already played a different, minor role in Captain Marvel beforehand.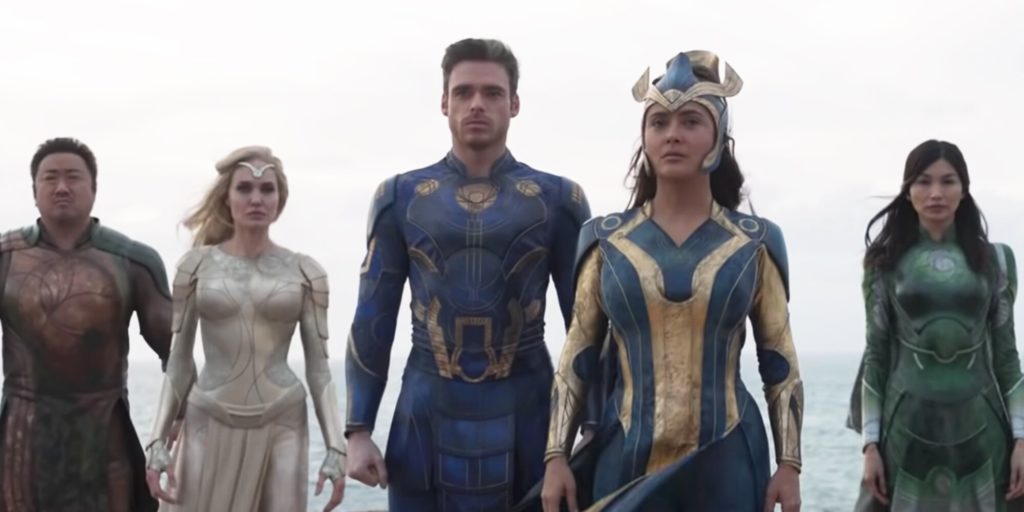 The movie is truly one of the most visually pleasing installments to watch. This is supported by the directing of Oscar-winner Chloé Zhao.
(SPOILERS AHEAD!)
The plot revolves around the group of newly introduced heroes named the Eternals (obviously). The Eternals are sworn to protect the earth against evil creatures referred to as "deviants." The deviants were thought to be killed years ago but of course, they really weren't because then we wouldn't have a movie. The group reforms to fight against them and hopefully banish them for good.
Junior Leilani Nevado, who is a huge Marvel fan herself said, "Out of all of the phase four Marvel projects, this is definitely at the top of my list, along with Shang-Chi. I really liked that this movie was slightly more plot-heavy compared to past projects. I thought that all of the characters were great, but two specific ones that stood out to me were Makkari and Thena. I highly recommend that other people see it, even if you are just a casual Marvel fan!"
The film is capped off by an appearance in the first of two end credit scenes by none other than Harry Styles. There had been rumors circulating on Twitter for months regarding Styles' appearance in the film. Styles portrayed Eros, the brother of the infamous MCU villain, Thanos.
"Harry as Eros was very much a package deal for me," said Zhao. "I pitched the idea of Pip the Troll (Patton Oswald) and Eros to Kevin (Feige) a while back, and I love the idea of exploring an Eternal who is beyond Titan and who may have influenced Thanos throughout the years the same way Eternals influenced us, earthlings."
She continued, "And then, it wasn't like I suggested Eros, and let's go find actors. I kept tabs on Harry since Dunkirk, I thought he was very interesting. After meeting him I realized he is that character—the same way I cast the rest of my cast. There's so much of Eros in him. For me, if he says yes, and Kevin says yes, then it's a go. And I'm very happy they both did."Eternals serves as the 26th installment in the Marvel Cinematic Universe. The universe will continue to expand with Spider-Man: No Way Home on Dec. 17. The Eternals will be returning in future MCU projects.