AT Boys soccer finished its season in a 1-1 tie against the ranked Red Devils of Hinsdale Central on Oct. 13 in a tough, physical matchup.
Captain Alex Sandoval explained that mentality would play a huge role in AT's ability to succeed against such a tough team.
"No one knew who Addison Trail was, and when we beat West Chicago, everyone did. I feel like once we lost that underdog mentality, our season went down," said Sandoval.
West Chicago, the defending state champion, lost to AT 1-0 early in the season. AT soon after began to show up in the rankings and have since dropped out.
"Gotta get that hunger back. We're not even in the top 40. That should make you mad," head coach Ryan Dini told his team before the game.
After a quiet three minutes of little action, Sandoval riled up the crowd with a long shot that whacked the crossbar. AT's defense held strong as the Devils came back and fired numerous shots towards goalie Joey Dionne's net.
The Blazer offense then regained control and nearly scored off a header by midfielder Matias Aguilar that went just left of the goal.
AT's offense relentlessly attacked. Just after the 20 minute mark, a shot by Sandoval drew out Hinsdale's goalie, forcing a defender to cover for him. Taking advantage of the collapsing defense, Forward Sebastian Alicea fired and scored, handing AT the 1-0 advantage.
An epic save by Dionne in which he tipped the ball over the back of the goal and a combined save from two defenders in the net kept the scoreboard lopsided at the half. However, despite a strong offensive performance and numerous opportunities, the Blazers weren't satisfied with their mere five shots on goal.
"1-0 is too scary," said captain David Peters. "If we get too cocky it's over. One free kick, one long shot from midfield, this game is tied."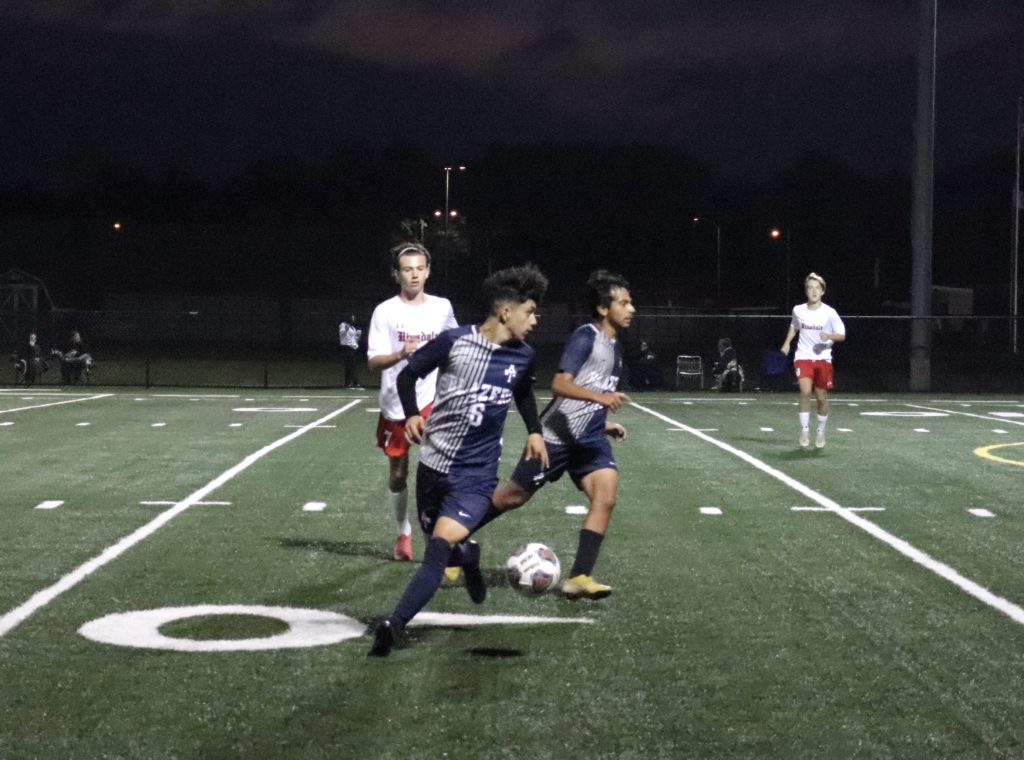 Dini prodded his team to make the second half easier on the goalie. He also discussed the need for energy and excitement.
"They think they're better than you guys," assistant coach Angel Vega added to his team. "Prove them wrong."
The Devils put up an incessant fight during the second half, pelting the Blazer defense with shot after shot. Blazer goalie Mateo Gomez fired up the crowd with numerous saves on close calls.
The clock propelled closer and closer to zero.
Despite facing a steel defense and even having a goal waved off for an offsides call, Hinsdale refused to have its fire stamped out. The Devils began to play recklessly, committing fouls and even yelling at spectators, and finally capitalized during a moment of Blazer confusion. With just minutes to go, the Devils scored in the blink of an eye on a cross court shot that snuck past Gomez.
Neither team left satisfied as the matchup was decided to be a tie. This solidified the Blazers' regular season record of 11-5-1.
"It's okay," Peters told his disheartened team. "We fix it now."
Dini said that the focus now is entirely on the playoffs.
"Anything can happen in soccer," he said. "We need to throw away rankings, records, and focus on the playoffs. It's survive and advance now."
Sandoval said that knowing what to do in certain situations, such as knowing where to go or how to make sure fouls are called when present, would make or break the playoff run.
"That's where experience comes in. It really comes down to whoever's the smartest. Everyones going to play hard, but we have to win with our heads," he said.
The Blazers, a three seed in the playoffs, will take on Bartlett on Tuesday during the first round of the single elimination tournament. They are ranked 56th in the state of Illinois.