AT stunned by Hawks' Nava in early playoff exit
AT's soccer season was docked on Oct. 19 after a last minute goal by the Bartlett Hawks handed the Blazers a 1-0 loss during the first round of the playoffs.
The loss came after what seemed a promising season for AT. The Blazers, who finished with a 11-6-1 record and began the season 9-1-0, went into the playoffs as a three seed.
After 58 minutes of shutout and defensive play from both teams, a game which looked ready to flow into overtime was upended by a free kick shot from Hawk defender Andrew Nava that went by Blazer goalie Joey Dionne during the final two minutes of regulation. 
Nava's shot sealed a ticket to the second round of the playoffs for Bartlett. Bartlett, who had put up an unimpressive 5-15-1 record during the regular season, was elated at their impressive defeat.
"The way I felt after defeating Addison Trail was amazing," Nava said. "We have had a rough season and no one thought we would be able to pull off that upset."
Bartlett fell to Geneva (9-8-6) by a score of 1-0 during the successant playoff game.
For AT, the loss washed away an incredibly successful season. After starting off the year with their first Joe Novy tournament victory in five years, displaying impressive defense by allowing only five goals in their first 10 games, and even rising into top spots in Illinois's high school soccer rankings before having a collapse mid-season, the Blazers had expected a much longer postseason journey. Instead, the Blazers were forced to watch the next rounds of the playoffs from the sidelines.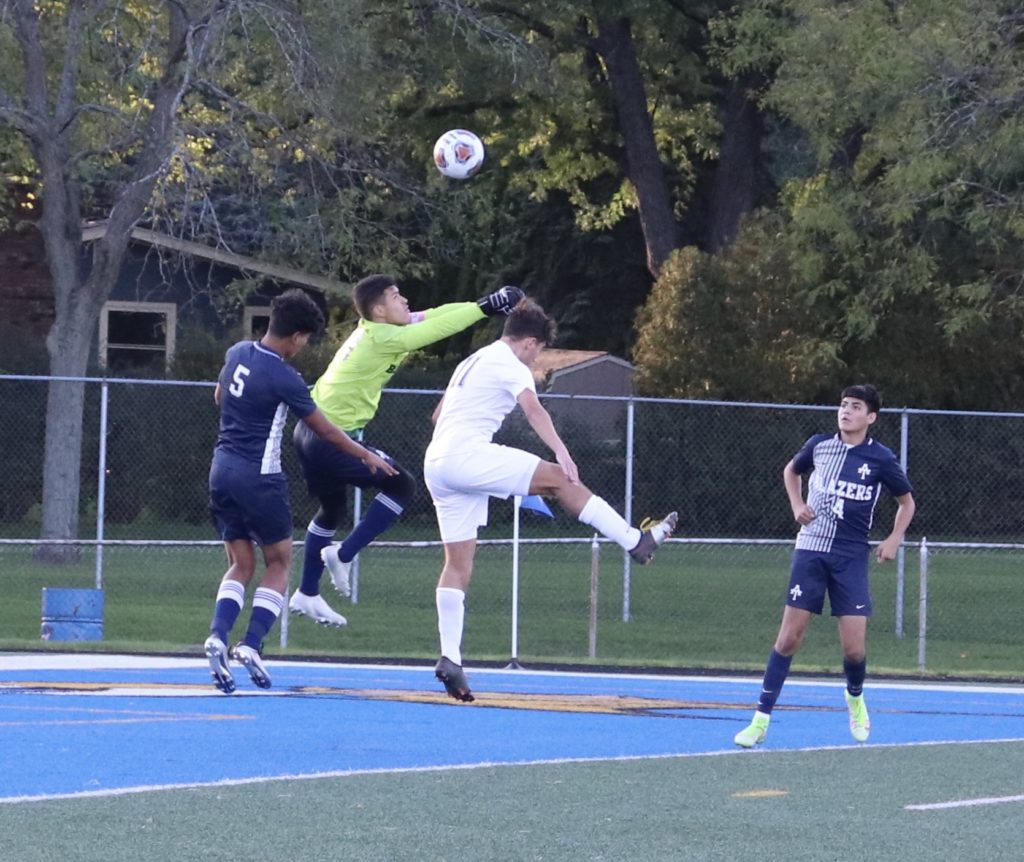 "We never looked completely right, but I can't say we deserved that," said assistant coach Angel Vega after the heartbreaking finish to the game.
Co-captain and senior Alex Sandoval felt extremely downhearted after his third and final season on varsity came to a close. 
"I had the most experience," he said. Sandoval, who scored 10 goals during the season, had led the team's offense throughout the year. "I wanted this for my seniors. This was the best team chemistry I've played with." 
Head coach Ryan Dini also spoke to the team's close connection, which he felt was the season's best byproduct.
"A lot of good things happened this season," he told his anguished team after the loss. "How close you guys all became, how tight you were as a group; we just didn't do enough to win today," he said.
Bartlett, conversely did do enough. After a dynamic matchup with countless opportunities for each squad, the Hawks were the only group able to capitalize.
Nava attributed the eventual success to Bartlett's refusal to quit.
"We knew that it was going to take a team effort to be able to defeat them [AT]. We knew our opponent was strong but we just wanted it more. We were tired of losing," he said.
"You only get one chance and that's it," said Sandoval. "We thought our energy was enough, but it wasn't enough."
AT goalie Mateo Gomez said that he still felt proud of his team's accomplishments.
"If we take a look at the big picture, we had a pretty good season," he said. "You should always want more and try your best to achieve something and I think that's what we did even though the result didn't back us up." 

Co- captains Sandoval, Gomez, and David Peters will continue their soccer careers at Division three programs next year. Sandoval and Peters will play for Aurora University and Gomez for Elmhurst University.
AT rival York tramples Fremd to win first state title
Just a few towns away, AT rival York hosted the first round of its playoffs on Oct. 19, which would eventually lead them to secure the 2021 state title. After first taking down the 6-4-6 North Stars of St. Charles North 1-0 due to a first half goal set up by striker Jose Herrera, the York Dukes continued to blaze their way through the playoffs, taking down defending state champion West Chicago 2-0 and DuKane conference champion Saint Charles East in a 9-8 shootout.
A late penalty kick score by Duke co-captain Sam Musial and a goal from defender Kacper Janowski boosted York over Huntley, sending them to state in a 3-1 win.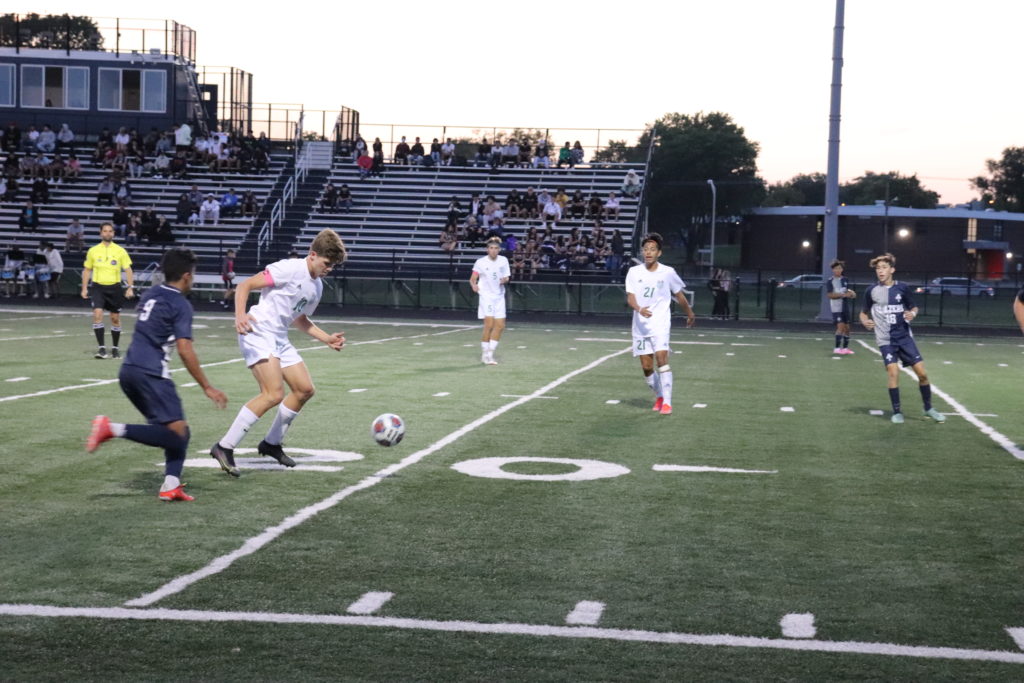 York, a one seed, then defeated the two seed Lockport Porters in a 3-2 bash after scores from forward Kevin Gliatis in the first half and from Hererra and Janowski in the second. The win sent them to the state finals, where Herrera scored in the first minute, kickstarting an offensive fire which led to a 4-0 battering of the Fremd Vikings and York's first ever state title.
"My first goal was crazy. First 30 seconds," said Herrera.
In addition to the early score, Herrera completed his double in the 67th minute, scoring York's final goal of the night and sealing the title.
"Even after that, we were still focused. My last goal felt amazing, just amazing. It finished the game," he said.
The clobbering of Fremd capped off a nearly perfect season for the Dukes. Losing only to Lyons Township and Oak Park River Forest, York went 23-2.
Herrera credited the team's constant winning mindset and their unbreakable bond.
"Before the season started we had the state final in our heads, but we knew that if we wanted to accomplish that goal we needed to work and work," he said. "I love this group of guys. They taught me to keep going and never give up. This group of guys worked every day and made sure I worked hard every day."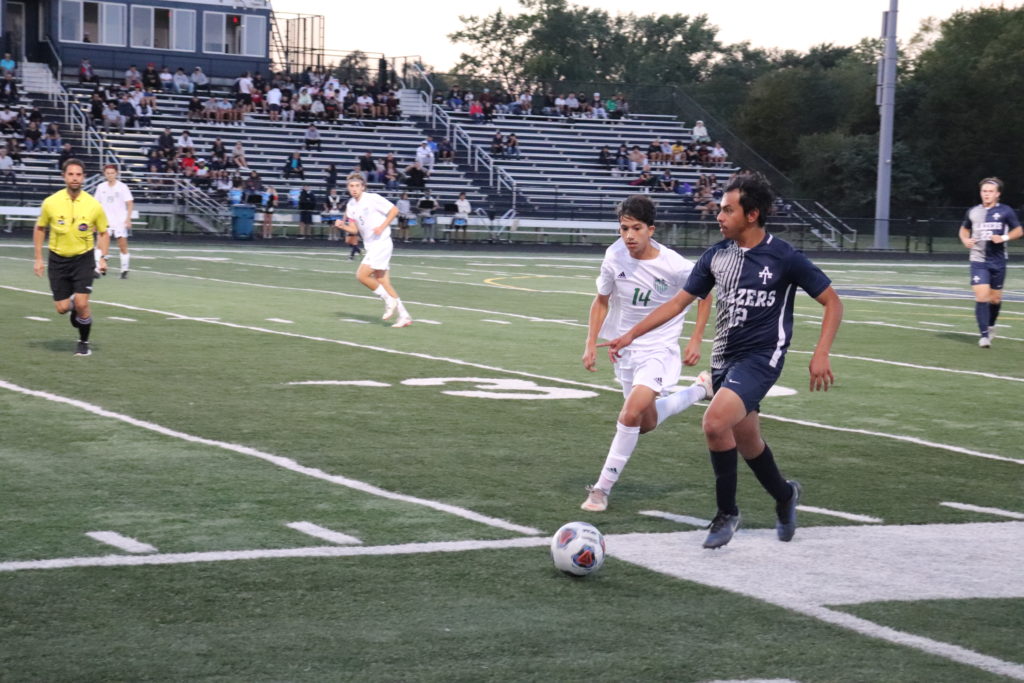 As a junior, he expressed gratitude for his role and incredible accomplishments on the team.
"I feel honored," he said.
Having scored 82 goals and only having allowed 18 all season, the Dukes rolled over several opponents including AT. The Blazers' worst loss of the season came on Sept. 30 at home when the Dukes outscored them 5-0.
Some AT players expressed appreciation for York's talent and incredible achievements this season.
"York was a really good soccer team, the best team I have played against in my four years of high school soccer," said Gomez. "They have invested so much into the program and they deserved to win. They won because of perseverance, hard work, and effort."
Herrera and the Dukes will look to defend their title next season. This year's Blazers, most of whom are seniors, are looking towards their future soccer careers and the potential of playing for colleges.