The AT boys golf team is off to a fantastic start to their season. On Saturday, Sept. 4, the team was invited to the Willowbrook Five Man Scramble.
The team won with a score of -13. One of the many highlights of the match was when junior Frankie Barges hit a hole-in-one.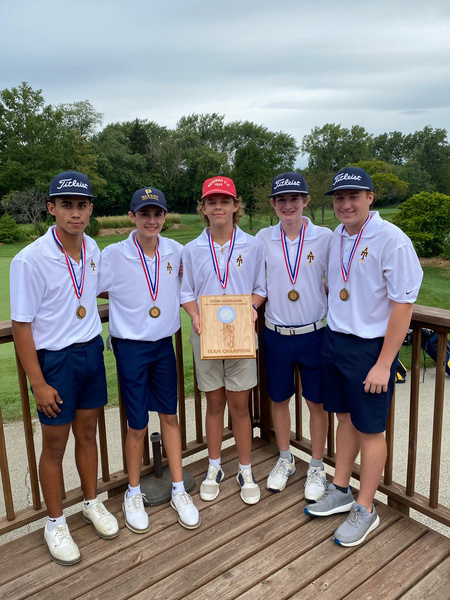 The team is currently 5-1 in their conference, securing wins against teams such as Morton and Hinsdale South. "Hinsdale South is a team we have not beat in a really long time so to get the win feels really good," said head coach Eric Norberg.
In a Two Man Scramble that was hosted by Glenbard East, Zachary Morris and Frankie Barges both won with a score of -1, which helped them win the tournament and earned them both a medal.
The team is currently headed by senior captain Elijah Aquino and sophomore captain Zachary Morris. Zachary has been golfing seriously for about seven years now.
Being the only sophomore on the varsity team, Zachary feels really proud that he could be able to play at this level. "It feels good being the only sophomore on varsity because it's nice to know that hard work pays off. It's also nice because the older teammates are always there to help and support me and some of the other younger guys throughout the matches," said Morris.
The team did play last year during the pandemic. They were able to play because it's an outdoor sport. There were other challenges than just having to wear masks while playing. The team had to adjust to a schedule of playing against only the five other teams in the conference instead of the usual ten teams that they would play. In the following weeks, the team will be facing off against Downers Grove South and district rival Willowbrook.
Morris is most excited to play Downers Grove South and believes that they will be the team to beat. "We believe that if we beat DGS we definitely will have a good shot at winning the conference this year, so until that match arrives we will keep on practicing," said Morris.
The AT girls golf team is also off and swinging into their 2021 season. The team is currently 1-4. They have played against schools such as Willowbrook and Elk Grove, but so far their toughest competition of the season has been Hinsdale Central.
The team is currently headed by senior captain Jazmin Martinez and junior captain Joslynn Elakatt. With there being so many girls on the team this year, head coach Stacey Puccini hopes that this will encourage more girls to come and play for next season.
Jazmin Martinez only recently started playing golf, even though it has always been a major part of her life. "Golf has always been a part of my life because of how a lot of my family has worked at the golf club I caddy at for over 20 years! I just didn't start playing until my sophomore year of high school! It was not until I started caddying my freshman year that I wanted to play golf. Being around the game of golf almost every day in the summer really made me come out to play," says Martinez.
Despite all that went on last year due to the pandemic, the team did play their regular fall schedule. "We did play last year and it was great to have the opportunity despite all that was going on with being remote as well as all the issues surrounding the pandemic," said Puccini. Puccini is in her eighth year coaching and second year as head coach.
Martinez lamented how different last season was than her previous year. "Playing golf last year was definitely different. We had to get our temperatures taken before practices and matches, we had to wear our masks while playing and we had to stay socially distanced. It sucked not being able to give each other high fives or go out and get ice cream after a match. We tried to get the best out of our season and it was definitely a season to remember," states Martinez.
The team hopes for this season to be more normal. During the following weeks, the girls will be facing opponents such as Downers Grove South and Glenbard East.