AT Girls basketball will look to make history tomorrow by defeating crosstown rival Willowbrook and putting themselves in position to share the conference title for the first time in history.
The girls lost to the Willowbrook Warriors earlier in the season 59-41 on Dec. 6 after struggling early before finding themselves on the same pace as the Warriors. Many of AT's five starters have yet to beat Willowbrook, who has consistently ranked among the top 50 teams in the state, during their high school career.
Point guard Quiana Birmingham, who has been on the varsity team since her freshman year, is one of these seniors. 
"My goal personally coming in as a freshman on varsity was to beat Willowbrook at least once in my four years. This is our chance to do it. I mean, if we do it, or when we do it, I will literally burst into tears right then and there," she said.
Starting small forward Diana Villegas also expressed a hunger to defeat Willowbrook.
"If there's one thing I wanna do in life, it's beat Willowbrook," she said.
Head coach Cory Little talked about the historical significance of the game and season.
"If we beat Willowbrook we put ourselves in position to share the conference championship which has not been done on the girls side of AT basketball ever. We also put ourselves in a situation to have the most wins in a season on the girls side ever.
The girls on the team, who have already made history this season with the best start in 15 years, described themselves as a very close group. Little attributed his team's success to the bond between his starters.
"It's a tight knit group. These girls have been around each other for four years, a lot of them have been on varsity for three years, and they're just a tight knit overall group," he said. "They hang out outside of basketball, they hang out during basketball, they wanna be around each other and I think that rubs off and takes over onto the basketball court."
According to the girls to the team's success is also fueled by their willingness to work hard, watch film, and constantly surround themselves with basketball.
"Even in our free time we come to coach's office, we shoot around; even on days where we don't have practice we still have girls coming into practice and even after practice there's still girls staying for half an hour more just to shoot around," said Villegas.
"I don't think any team watches as much film as we do," added Birmingham.
Along with Birmingham and Villegas, seniors Mary Velez, Gia Napoli, and Juliana Nasti make AT's starting five. The starting group has been playing together for 10 years, first sharing the court in elementary school through the Addison Girls' Sports Program. The girls frequently hang out and spend time talking about basketball and coming up with strategies to improve their game.
"The seniors in general, we're already friends outside of basketball. So it's like bringing our friends and instead of talking about going out, we'll just talk about basketball," said Velez.
"My starting five is the glue to this team," said Little. "They make it run. That starting five has clicked and bought into what we've taught them the last few years of their high school careers and they've taken it to the floor," he said.
When it comes to turning drive and dedication into strategy, a major emphasis of the team is on the defensive side of the court.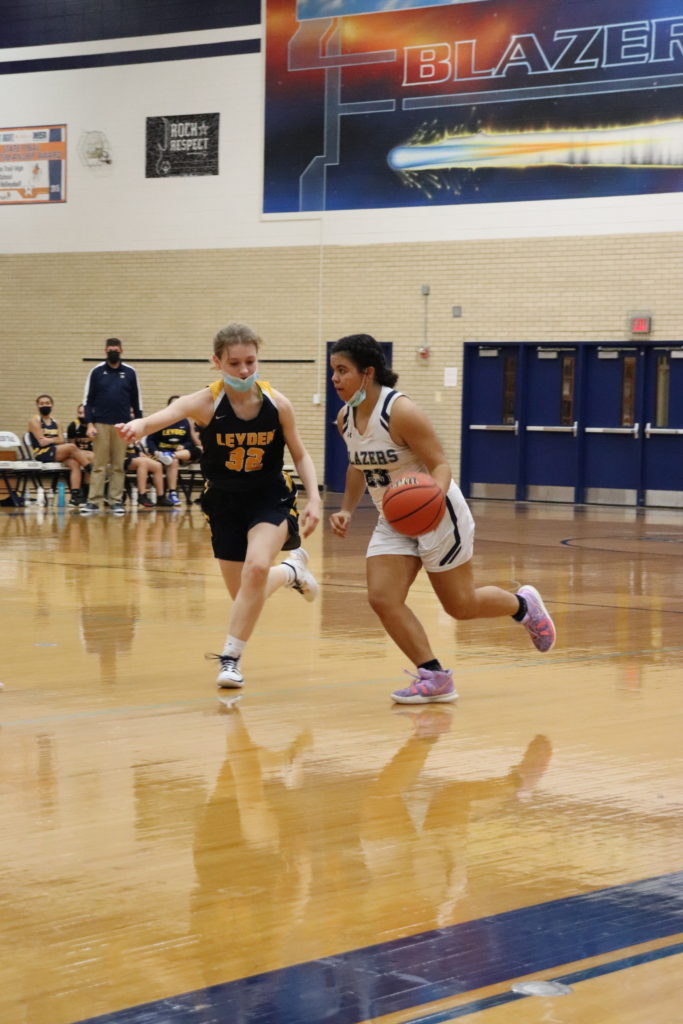 "If you ask me years from now what the one thing that Cory [Little] would always tell us as a coach, it's that our defense sparks our offense," said Villegas. "A lot of the time when scouts come and people come to see us, the bread and butter of our team is defense. That's the thing we're good at. That's what we take pride in. Our defense is just so great because we communicate so well with each other. Even if a girl does get past us we know that another teammate is going to be there to back us up," she said.
Birmingham talked about the defensive strength as a unique asset for her and her teammates.
"People notice it," said Birmingham. "A lot of teams don't like to play defense but we love it because we're good at it. We know that defense is what's gonna make it for us and then offense will come. We have so much heart and that's what defense is all about," she said.
In spite of their defensive talents, AT cited a need to work on consistency before their brawl with the Warriors.
"Everyone has to be consistent at one given time," said Velez. "It can't just be one person's up and one person's down. Everyone has to be on the same mental playing field and the same physical playing field, but also with the same goal in mind," she said.
Knowing that the impending matchup is the climactic moment of a a career together, starters said that regardless of what happens, they want to leave everything on the court.
"I'm doing it for the other girls on my team. We're doing it for each other," said Villegas.
"We're using this season to fulfill everyone's last hurrahs and using the season to make sure we have the best memory possible for our whole senior class," added Velez.
Villegas spoke about how much basketball, as well as the rivalry game means to her and her team.
"We're all so passionate about the sport and we've been passionate about it since such a young age. Knowing that we're seniors now and this is gonna be the last time that a lot of the girls on the team ever play basketball motivates us," said Villegas.
Birmingham added that she felt her team was on the brink of greatness.
"We know how good other teams are and we realize that we are not that far away from them. We're right there, if not better, and that feeling is so great," she said.
Velez encouraged Blazers to come out and support the team tomorrow. 
"Pop out and come to the game," she said. "This is the one chance to witness history, because there's no other game that's ever gonna be like this one. This is everyone's one chance to witness history in the making." 
The Blazers will look for their win tomorrow at 7pm in Villa Park.