President Joe Biden has officially sworn in alongside Kamala Harris as the new President and Vice President of the United States. Inauguration Day was packed full of surprises starting from Former President, Donald J. Trump's goodbye message to Kamala Harris making history as the first woman/woman of color to hold office as Vice President.
The students have been able to share their voices during this election season by holding a mock election, watch and debate speeches, and some got to vote for the first time. Yusra Naseeruddin was one of the first-time voters at the high school. She states, "I felt like I was really a part of something bigger than myself. I'm glad my voice has been heard and I've made an impact."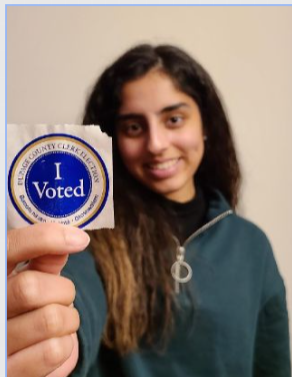 Looking at how much has changed from Election Day to Inauguration Day is astounding. AP US Government and Comparative Government teacher, Mrs. Cescolini states, "This is one of the craziest elections in history. No president has ever been impeached twice and within the past century, a president has not skipped out on Inauguration Day."
Inauguration Day has come just a couple of weeks after the Capitol riots that left protestors and police officers dead. In his speech, Joe Biden reminded the American people of these riots but says it will not tear our nation down.
When asking Youth and Government member, Isabel Aramburu how she felt the Inauguration Ceremony went, she stated, "Inauguration Day had wonderful performances and showed off the pride of the American people."
At the Inauguration Ceremony there were also a number of performers including Lady Gaga, Jennifer Lopez, and Amanda Gorman, who was the youngest poet to ever perform at the Inauguration.
Also at the event included Former President Obama, Bush, and Clinton as well as their Former First Ladies. Biden is seen after the ceremony with the former Presidents laying the wreath over the gravestone of the four unknown soldiers.
When looking at the values of President Biden, Israar Ahmed, an active member in politics states, "Biden looks at what everyone overall wants, not just Democrats like himself. He wants the general population to be satisfied with the job he has done and I believe that he wants to make a great impact on how this nation is run." Ahmed also stated, "Within the first day, he signed 17 executive actions and for these first 100 days we will see his quick action towards COVID-19 such as a faster and concrete plan for the vaccine distribution and mask mandates."
Only time will tell whether or not Biden will follow through with his promises, but he was able to showcase himself at the Inauguration Ceremony well and there is a good chance both he and Harris will continue to make history.