AT Boys soccer tainted its untouched record during the Pepsico tournament on Sept. 11 and 12 after a 1-0 loss against Boylan and a 3-1 victory over Metea Valley.
The loss, the first of the season for the Blazers (7-1-0), came as a calamity for AT. The game had been hyped up for weeks and assigned a lot of importance.
"If we win this game, it means we have the talent to be champions," said Goalie Mateo Gomez before the game.
Despite the game's gravity, AT let down itself as well as the mob of fans in attendance with what seemed to be a trifling effort in all areas of the field. From the instant the first whistle blew, lapses of success in the midfield and scoring opportunities made themselves known. The Blazers incessantly lost control of the ball and weren't positioned to receive corner kicks.
Resultantly, the Titans of Boylan found themselves with possession of the ball for most of the half. AT, seeming to always be short on defenders, hardly managed to fend off their opponent.
Despite countless defensive stops by Defender David Peters and saves by Goalie Joey Dionne, the Titans managed to put one through as the first half wound to a close.
"I don't think we were as confident as we should've been," Head Coach Ryan Dini told his team after the grim first half.
Assistant coach Angel Vega also criticized AT's performance.
"We underwhelmed the first half," said Vega. "We made them [Boylan] look like an all star team."
Despite an increased level of energy and a 40 minute shutout by Gomez, AT couldn't manage to get through the Titans to score. In addition, injuries proved to be a problem, as co-captain and all Joe Novy tournament selection Alex Sandoval went down three times, the last of which took him out of the game.
The band of emotional Blazers walked off the field with their heads hung.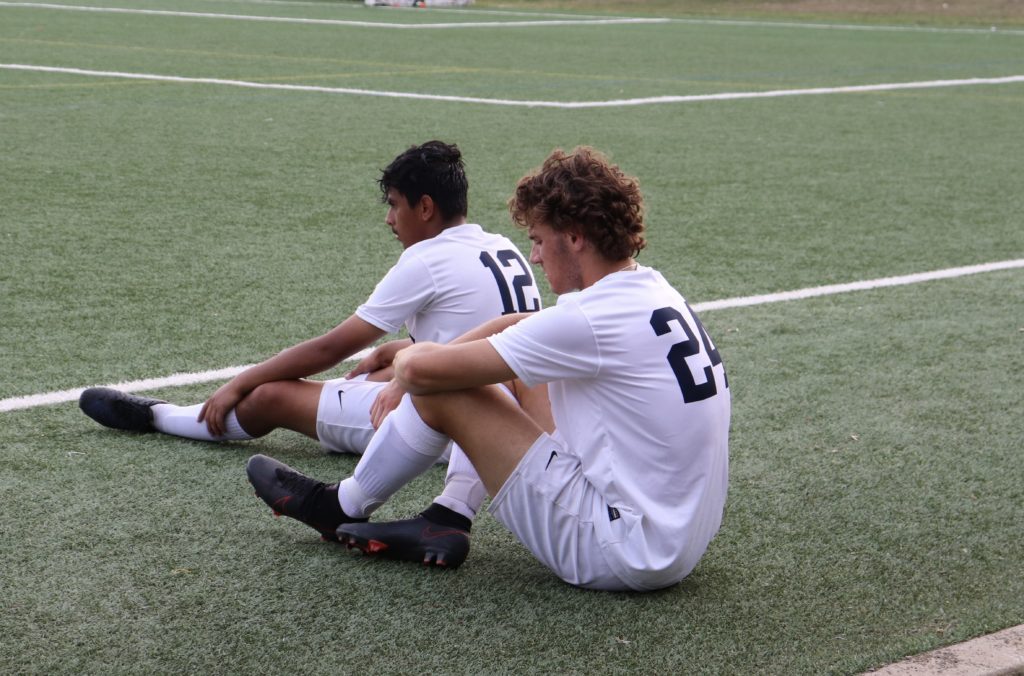 "Tomorrow has to be better than today. Today we were humbled," said Midfielder Moises Hernandez.
Dini expressed dismay over his team's lack of resilience.
"Some guys I never thought would give up gave up," he said. " We didn't deserve to win this game."
Fortunately for AT, Pepsico wasn't over. The following day, the Blazers set out on a mission to bounce back and defeat the Mustangs of Metea Valley. AT's 3-1 win in this game granted them a check for Top Soccer, a team program for young athletes with disabilities.
"We have a lot to play for today," said midfielder Matias Aguilar before the game.
Missing Sandoval, AT's efforts on the field were met with more frustration. About 30 minutes into the Blazers' scoreless half, the defense froze as a Titan buried a goal on Gomez.
After a few more costly mistakes, AT completed its third straight scoreless half.
"Everybody is accountable," Dini told his team. "Our passing is atrocious."
"Sandoval isn't in. It has to come from other players," added Vega.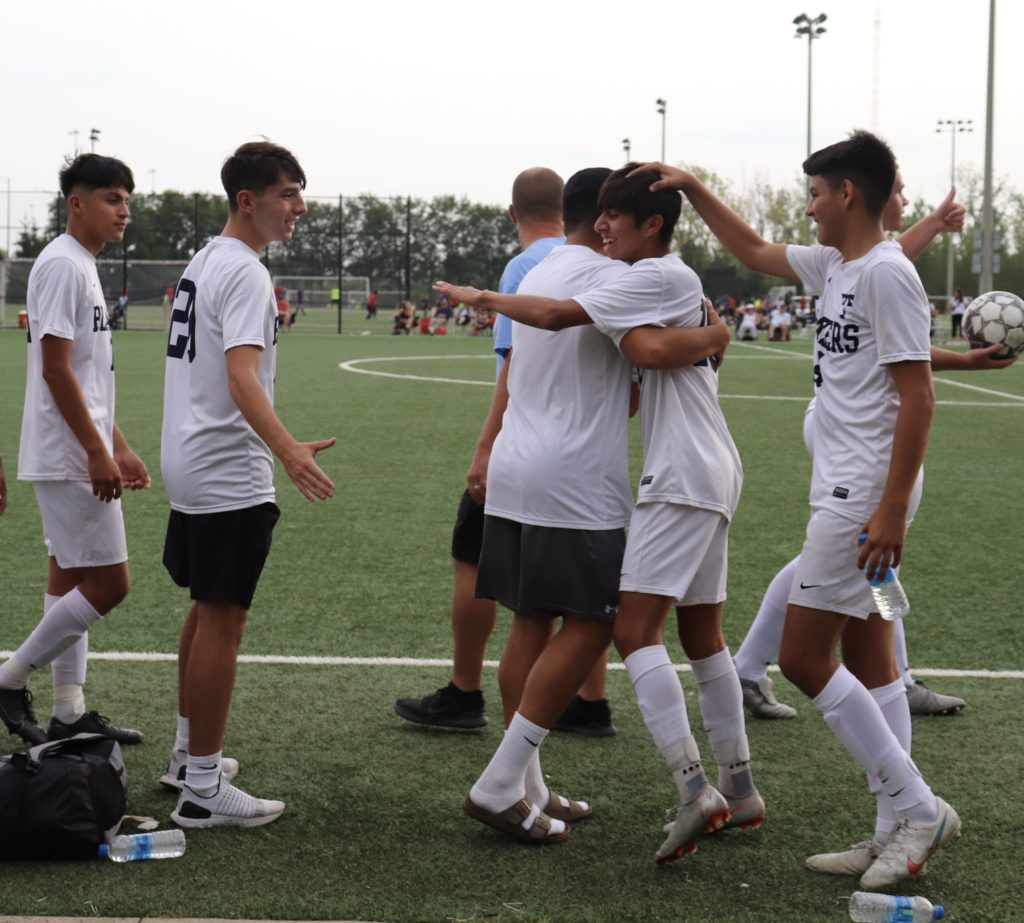 Teammates hug Forward Andres Jimenez after a 2 goal show. The goals boosted AT to its 3-1 win.
The Blazers entered the second refusing to lose another game. AT began to fire on Metea Valley's goal rapidly. In a stretch of 10 minutes, AT had scored three times and created a monsoon of Blazer energy and momentum. The first goal came from Forward Peter Savinos and the second and third from Forward Andres Jimenez.
An incredible diving save by Dionne sealed the deal for AT, who took a huge sigh of relief.
"What a way to step up," Peters told his team.
The team walked away proud to have won their check and ready for a long bus ride of excitement.
"Peter [Savinos] is not gonna stop talking," said one team member.
With a 8-1-0 record and a 3-0-0 record in conference, AT is set to take on top ranked teams in the upcoming weeks as they fight towards the conference title. The Blazers are ranked 18th in Illinois according to Chicagoland Soccer's state rankings.