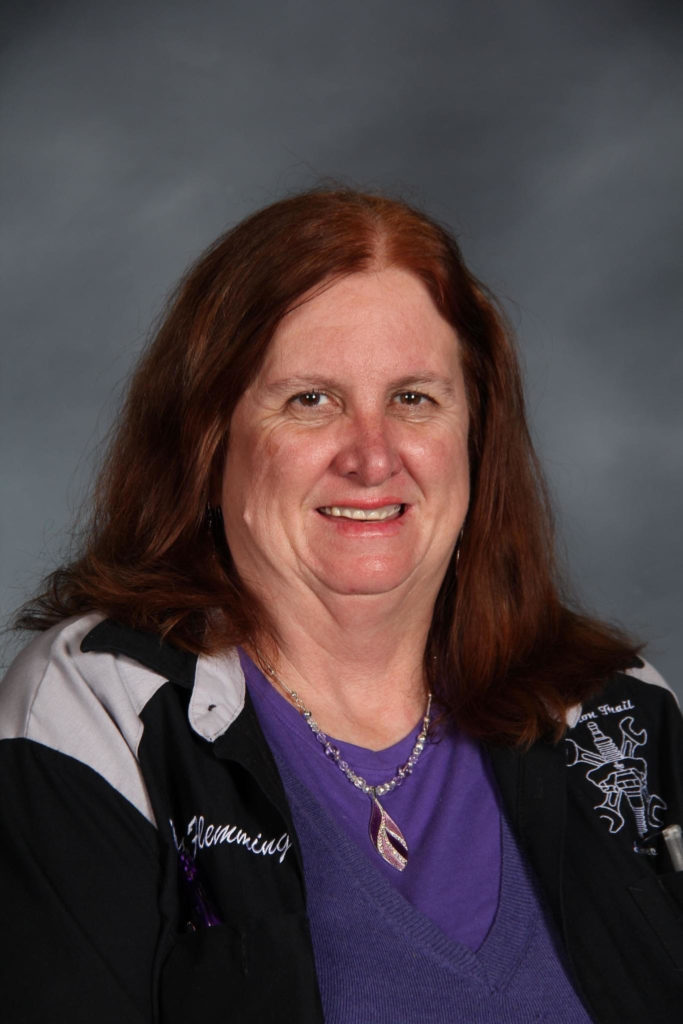 Another devastating loss struck Addison Trail when veteran AT Aide Suzzane Flemming passed away on Oct. 9, as the Blazer community was still coping with the loss of a student in the early part of this new school year.

 Flemming started her career at Addison Trail back in 2015. There were many different jobs that Flemming had around the school. She worked as a substitute teacher, credit recovery aide/teacher, and full-time teacher aide in the Career and Technical Education (CTE) Department. 

Flemming was beloved by her fellow staff members and her students. Flemming was close with many of her coworkers including Jennifer Kowalski and Jake Santini. 

"We both knew each other pretty well. Mrs. Flemming started here 7 years ago working in Credit Recovery. At that time, I was also in Credit Recovery and we worked together for a few years. We also did summer school Credit Recovery together for a couple summers. Mrs. Flemming has been a part of the CTE department this entire time working as an aide alongside Mr. Santini, but joined our department full time this year," said Kowalski. 

Not only was Flemming a kind person, but she was very hardworking and cared for the education of her students. Flemming would go above and beyond.

"Mrs. Flemming was very friendly and outgoing. We laugh and say she literally knew everyone in Addison. She was not afraid to speak her mind and ALWAYS cared about the students. She was definitely one of the most loyal and dedicated people I knew. She would spend countless hours on her own time working with kids to help them finish their classes in credit recovery. She would tell me how she'd be out with friends and still responding to students' emails. She was 100% devoted to her job and students. Mrs. Flemming was also a very giving person and would help people whenever she could," Kowalski explained.

Flemming was widely known for being a generous person, who not only cared about students but also her co-workers. 

"I want everyone to know that Mrs. Flemming truly loved being a part of AT and always wanted what was best for the students. She had the kindest heart and would do whatever she could to help students succeed. Not only did she care about her students, she also cared about her coworkers as well and was always there to support them," said Kowalski.

Flemming was savvy in motivating ways she would help her students to succeed. 

"She always loved to reward the students in Credit recovery. She would often motivate them with pizza parties and would give them a Hershey's bar every time they passed a class. I remember once at the end of summer school, she went out and bought an ice cream cake to celebrate the end of summer school and praised the kids for a job well done."

Outside of Flemming's life at Addison Trail, Mrs. Flemming had many interests and a large family. 

"Mrs. Flemming loved spending time with her family and friends. She had 6 children and 9 grandchildren. She loved baking cakes for their birthdays and hosting events. She also loved country music and sports like myself and she attended many country concerts, Cubs games, and college football games," said Kowalski.

No words can express how devastating this loss is. Flemming will forever be missed by AT and the many family members and friends she touched in her lifetime.

"Suzanne truly embodied what it means to be an Addison Trail Blazer," said Jack Andrews, Addison Trail Principal.
Suzanne Flemming passed away on Oct. 9 after spending decades in Addison as a highly visible resident, raising a large family and serving the community through her work with Addison schools.